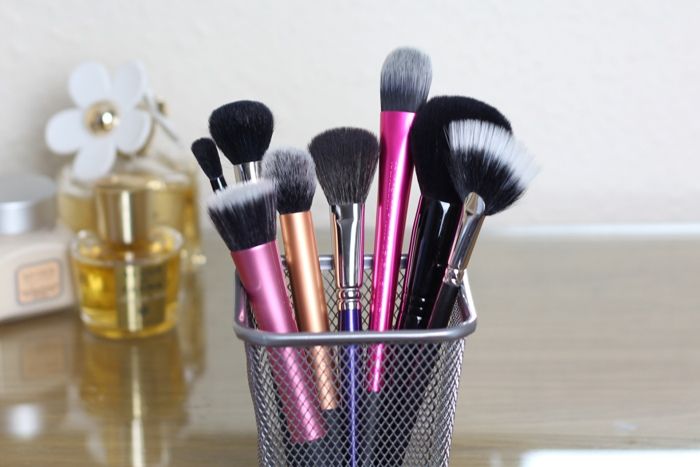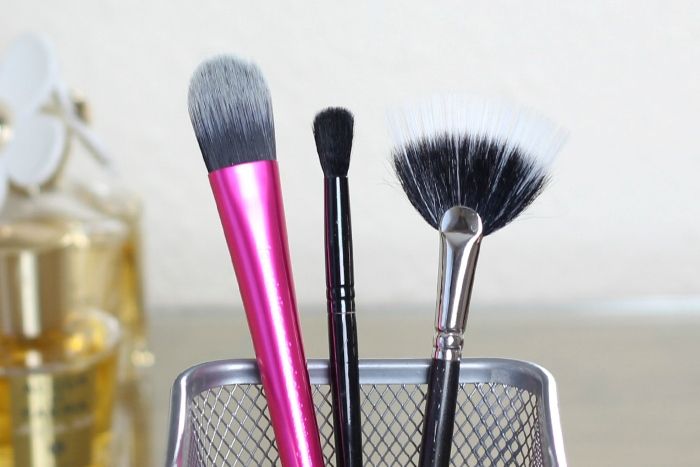 Sephora I.T Foundation Brush - This is not an essential for myself as I always just use my fingers to apply my own foundation but for use on other people I love this foundation brush. I still favour a good old fashioned flat foundation brush or sponge when doing other people's base makeup. This Sephora one is fantastic because the bristles are not too densely packed and it's not quite pancake flat which gives a better finish and is easier to clean!
Illamasqua Blending Brush - Technically an eyeshadow brush but I love this for concealer especially under the eyes. It's synthetic so it works perfectly with creams and liquids and it's incredibly soft so it blends concealer seamlessly and is great for cleaning up after eyeshadow.
MAC 184 Duo Fibre Fan Brush - This is fantastic for dusting loose powder over foundation when you don't need a heavy amount. This is what I always use on myself as I don't like to look too powdered. It's nice and flat for getting right under the eyes and it's also handy to dust away any sprinkles of eyeshadow that fall down underneath the eyes from the lid.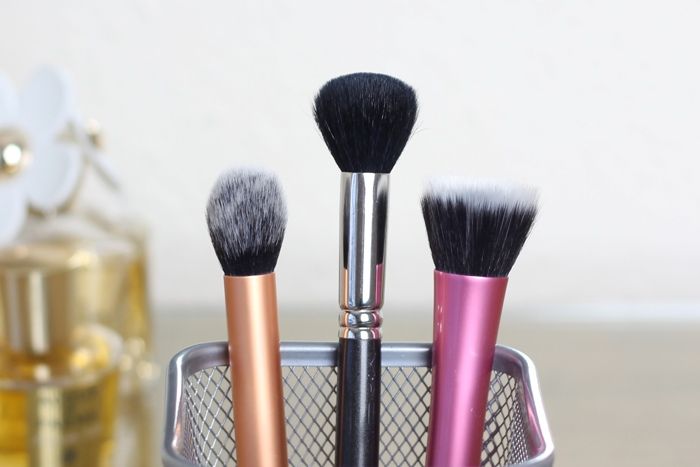 Real Techniques Contour Brush - I used to use all different sorts of brushes to contour with until I found this one and now I almost never use anything else. It's a perfect shape - not too big and tapers to a dome but not a point which means it gives a lovely even blend. It's also synthetic so great if you use creams to contour with. It would also work well for a cream highlight.
MAC 109 Small Contour Brush - I've had this brush for years and it's always been my favourite to use for blusher. I favour smaller brushes in general but particularly for blusher as I like to be quite specific about the placement. There's a few dupes for this and I know some people prefer the Illamasqua Highlight Brush which is similar but personally I think there's something about the particular shape and size of the 109 that makes it better.
Real Techniques Stippling Brush - I tend to use this as a finishing brush. After applying each product, blusher, contour etc. I will buff over it with this to make sure it's blended and that there's no lines. It may not sound that necessary but it makes a big difference! I also use this to stipple cream concealer over any surface redness like tops of cheeks etc.


Cozzette S140 Highlight Brush
- This is a great little multi-use brush. It's lovely for blusher, powder highlighter, bronzer around the edges of the face or for applying powder to specific areas. I did a full review on it
here
.
Illamasqua Powder Brush - I like to have one really large powder brush for applying bronzer to the neck and chest or for getting a quick all over bronzed look to the face. This one is amazingly soft synthetic hair...if you've never felt Illamasqua brushes before you need to! It always applies bronzer lovely and evenly.
I could have added a few more to this list since brushes are one of my favourite things but I thought I'd keep it at a condensed 8! If you'd like to see my most essential eye makeup brushes you can look back on that post
here
!